JW17: Mural "Teplice beauty"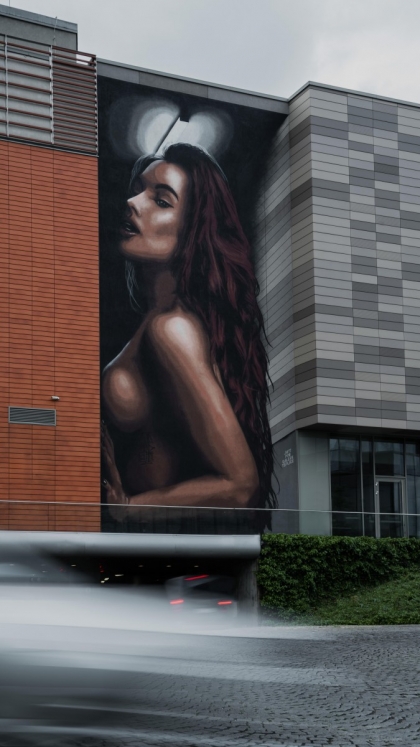 Mural: Teplice beauty #skrzgalerii by JW Mind Strike
It is no surprise that the main motif of the mural made by artist JW Mind Strike in the heart of Teplice is a woman. JW Mind Strike's works tend to be provocative, and the mural in Teplice belongs to the artist's more modest paintings.
Mural art is becoming a fast-growing phenomenon, with murals (large-scale paintings) being created in many places. But why was the large-format painting created in a shopping centre in the heart of Teplice? Galerie Teplice once again lived up to its name, giving the artist space to create a modern work of art and bringing modern art closer to the general public.
The painting was created in less than a week, the artist sprayed it from a platform and it has been his tallest installation so far. The image has form, depth, a sophisticated perspective and feels realistic. As if it didn't start or end anywhere and permeated the entire shopping centre Galerie Teplice. This is where the apt hashtag #skrzgalerii for the Teplice beauty comes from.
Street art often has to be created on illegal surfaces - on bridges, walls of old abandoned houses and halls and on roofs. In Teplice we are lucky that the work was commissioned legally and decorates the city centre.
The Czech mural art scene is a little richer thanks to this Teplice beauty #skrzgalerii by JW Mind Strike. Thank you!