Gift vouchers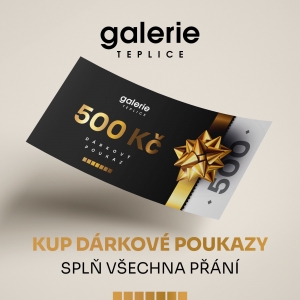 Treat yourself and your loved ones to Galerie Teplice gift vouchers.
You can purchase gift vouchers in values of 100 CZK, 200 CZK and 500 CZK at the Information Centre on the ground floor, every day from 10:00 a.m. to 01:00 p.m. and from 01:30 p.m. to 6:00 p.m.
Vouchers can only be used for shopping in Galerie Teplice shops.
Shops which accept vouchers are marked with a sticker reading "Zde přijímáme dárkové poukázky" (We accept gift vouchers here).
When shopping, the entire value of the voucher has to be used in one transaction and shopping has to be done in a single shop.
The retailer is not obliged to return the balance by which the value of the voucher exceeds the value of the shopping. With sums higher than the value of the voucher, the remaining balance can be paid in cash.
More than one voucher can be used for payment at the same time.
The validity of vouchers is limited to one year from issue.
Gift vouchers can be purchased at the Information Centre, or you can order them in advance so they will be ready for you to pick up at the Information Centre later.
Payment for gift vouchers can be made in cash or via pament card.
On-line ordering of gift vouchers
Stores accepting the gift vouchers
all
0-9
A
B
C
D
E
F
G
H
I
J
K
L
M
N
O
P
Q
R
S
T
U
V
W
X
Y
Z
Cooking and Dining
Delicatessen
Drugstore & Parfumery
Electronics, Multimedia & Communication
Entertainment
Fashion
Gastronomy
Health, Beauty & Pharmacy
Jewellery, Watches & Accessories
Services
Shoes & Footwear
Specialised stores
Sports & Leisure
Toys, Books & Gifts